Partner lab price : 5.36 €/hour Public and private lab price: 22.32 €/hour
Brief description:
Motorized widefield inverted microscope with an incubator ("Videomicroscope") for timelapse imaging. The workstation is controlled through ZEN software.
For epifluorescence and transmission imaging (brightfield, Phase and PLASDIC techniques).
Multidimensional acquisition (X,Y, Z, lambda & t)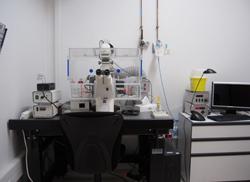 Objectives:
5x Plan NEOFLUAR 0.16 NA PH1
10X A-Plan 0.25 NA PH1
20X Plan NEOFLUAR 0.4 NA PH2 Korr + PLASDIC
40X A-Plan 0.5 NA PH2 PLASDIC
40x Plan NEOFLUAR 0.6 NA PH2 Korr
63X Plan Apochromat 1.4 NA oil

Detector:
1 Hamamatsu ORCA-Flash4 monochrome camera
(2048 x 2048 pixels, 6.5µm pixel size)

BSL1 environment
Illumination:
XCite 120LED controlled by Zen for episcopic illumination
100W tungsten filament bulb for diascopic illumination

Motorization:
Binocular tube, X, Y and Z stage, fluorescence filter set turret, objective turret.

Fluorescence filter sets:
Hoechst
FITC
Cy3
Cy5
CFP
Available acquisition techniques:
Any 2 or 3D acquisition along time (ranging from a few hours to a few weeks) with any compatible supports such as microscope slide, petri dish or culture plate, with both fluorescence & transmission modes (brightfield, phase contrast, PLASDIC).
Mosaic acquisition/reconstruction of a full well in both fluorescence & transmission modes.

User-defined protocols.
For any inquiries, please contact
This email address is being protected from spambots. You need JavaScript enabled to view it.