March to June 2023 : MRI BioCampus Worshops
The next BioCampus workshops organised by MRI:
-6-9 march: Microscopie à épi-fluorescence et microscopie confocale : de la base à la pratique
-4-5 april: Cytométrie en flux : de la préparation des échantillons à l'analyse de données
-13-14-17 april: Les bases du logiciel ImageJ
-23-25 may: Programmation des macros avec imageJ
-19-20 june: Imagerie avancée: Haute résolution en microscopie photonique
-june: Les bases du logiciel OMERO
All the informations are on the Biocampus website
January 2023 : MRI wishes you a happy new year!
MRI has had an exceptional year in 2022 and we have no doubt that 2023, the year of MRI's 20th anniversary, will be just as eventful! Please click here if you want to know more in details the past events in 2022 and the future events in 2023.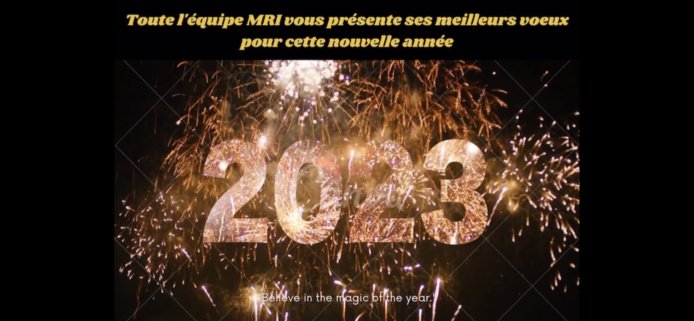 See you soon at MRI facilities!
September to December 2022 : Welcome to all new MRI engineers
We are very happy to welcome new members in the MRI team : Clément Croisé (IT asset management apprentice), Clément Benedetti (engineer in image analysis), Felicia Leccia (engineer in cytometry) and Dominique Goubet (software developper on CFMS project)
Clément, Clément, Felicia, Dominique, Welcome among the MRI engineers staff!!
October 2022 : A new Aurora Cell sorter - MRI-IRMB facility
This sorter based on spectral cytometry is equipped with 4 lasers: blue, yellow, red, violet and allows a much more efficient separation of fluorochromes resulting in the possibility to increase the number of detectable colors simultaneously, theorically 35 simultaneous fluorochromes. All the characteristics are described on the dedicated webpage
Please contact This email address is being protected from spambots. You need JavaScript enabled to view it. for more information or to discuss your projects
October 2022 : MRI is involved in "En quête de Sciences" organised by the CNRS Occitanie Est delegation
On 13 and 14 October, MRI welcomed high school students in the "photography" professional section and hairdressing apprentices. On Saturday 15 October, the campus was open to the general public. It is always a great moment of sharing! We showed them cell division under a microscope!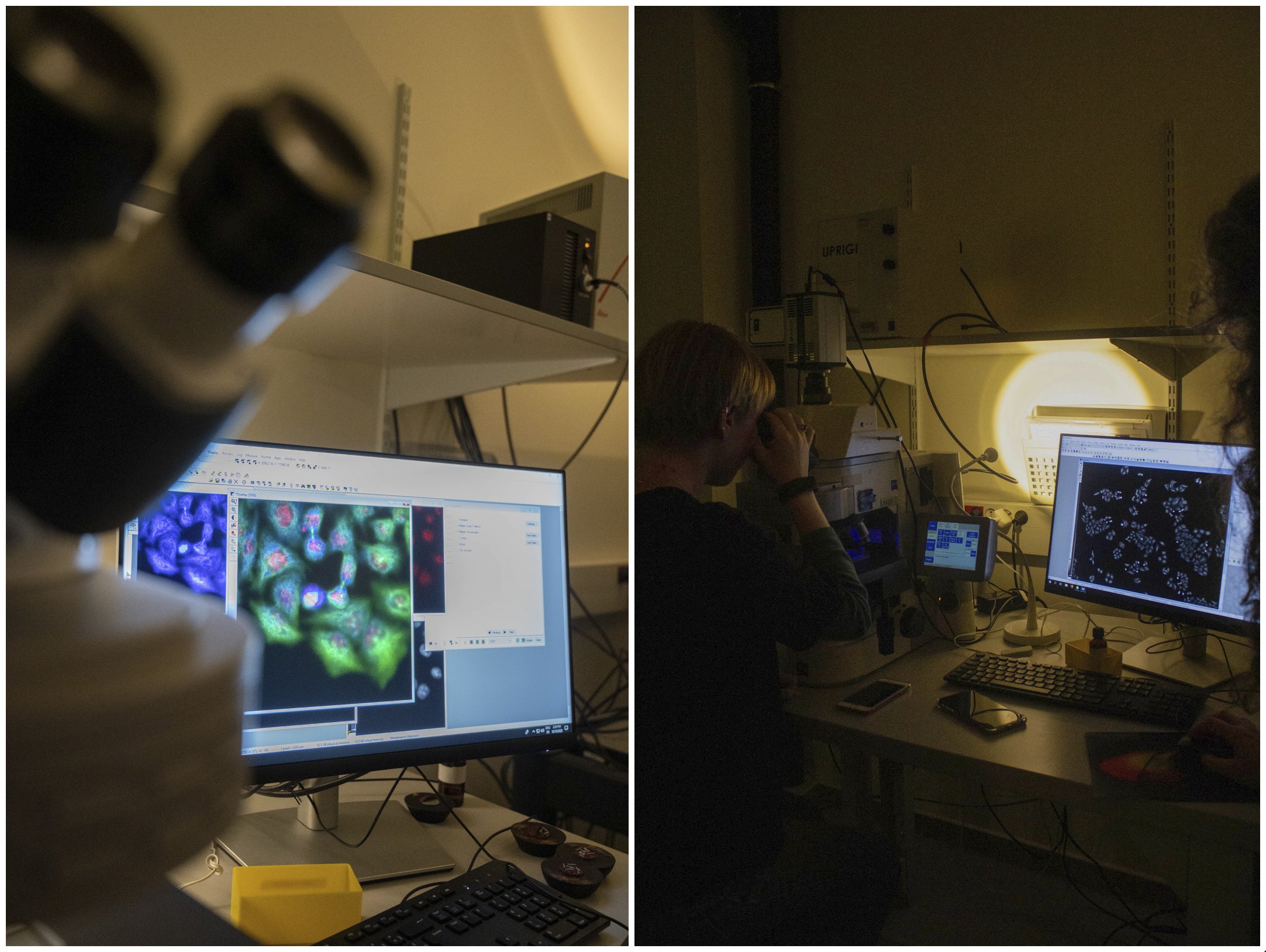 Thanks to the "photography" pro section for their pictures!
September - December 2022 : MRI BioCampus Worshops
the next BioCampus worshops proposed by MRI are :
-October 5: Formation FlowJo niveau débutant
-October 12-14: Analyse d'images-3D
-October 17-18: Cytométrie en flux : de la préparation des échantillons à l'analyse de données
-November 15-16: Les bases du logiciel OMERO
-November 22-24: L'apprentissage automatique ("machine learning") appliqué à l'analyse d'images biologiques
All the informations are on the Biocampus website
July 2022 : Visit of Sylvie Retailleau in Montpellier - visit of MRI-ISEM facility
The Minister for Higher Education and Research came to Montpellier to visit three cutting-edge research sites in the field of the environment. This visit to ISEM was an opportunity to visit the MRI X-ray tomography platform of ISEM in the presence of Nicolas Galtier and Renaud Lebrun.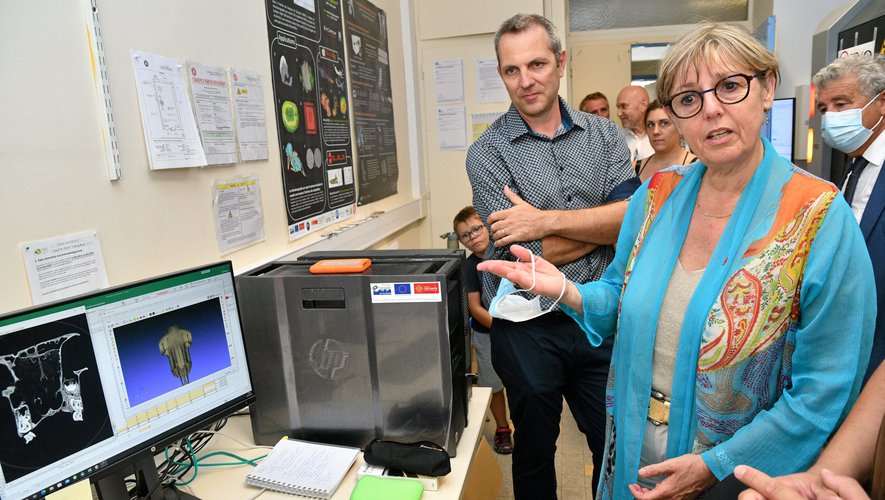 (image source : Midi Libre MAXPP - JEAN-MICHEL MART)
July 2022 : upgrade of the CSU-X1 spinning disk - MRI-CRBM facility
We changed 1) the 4 lasers, they are 5 to 10 times more powerful than the old ones, 2) the camera by a sCMOS Prime95B with a smaller pixel size than the previous one, 3) the iQ3 software by the Inscoper software and 4) a module (Inscoper module) that controls all the components of the microscope to increase the acquisition speed. The detailed configuration is available on the MRI-CRBM web page.
Please contact This email address is being protected from spambots. You need JavaScript enabled to view it. for more information or to discuss your projects
July 2022 : A new LSM980-Airyscan2 confocal microscope - MRI-IGH facility
This microscope replaces the confocal LSM780 on the IGH facility. Beyond the classical confocal microscopy, the Airyscan module allows an improvement of resolution, sensitivity and or acquisition speed.
Please contact This email address is being protected from spambots. You need JavaScript enabled to view it. for more information or to discuss your projects
June 2022 : A new imaging flow cytometer "Imagestream X (ISX)" - MRI-IGMM facility
This device is a combination of a flow cytometer and a microscope. The ISX will display an image of your cell and allow the calculation of a number of statistical parameters related to cell size, shape, texture, fluorescence location and intensity. The image processing software, IDEAS, offers free and/or wizard-based analysis for certain applications. The main features of our instrument are described on the MRI-IGMM web page.
Thanks to contact This email address is being protected from spambots. You need JavaScript enabled to view it. for more information or to discuss your projects
June 15-17, 2022 : Workshop "L'apprentissage automatique ("machine learning") appliqué à l'analyse d'images biologiques"
TRAINING CANCELLED DUE TO LACK OF REGISTRATIONS. The MRI platform offers training to understand and apply machine learning methods for biological image analysis using open source software.
All the informations are on the Biocampus website
May 2022 : A new LSM980-Airyscan2 confocal microscope - MRI-CRBM facility
The SP5 confocal microscope was replaced by a Zeiss LSM980 confocal microscope. This microscope is equipped with the Airyscan 2 module for high resolution and the Multiplex mode for faster scanning. This microscope is controlled by Zen blue. The detailed configuration can be found on the MRI-CRBM webpage.
Please contact This email address is being protected from spambots. You need JavaScript enabled to view it. for more information or to discuss your projects
May 18-20, 2022 : Workshop "Programmation de macros avec ImageJ"
The MRI platform offers training to learn how to write scripts in Image J that automate many image processing and analysis tasks
All the informations are on the Biocampus website
May 2022 : A new Olympus SORA spinning disk - MRI-CRBM facility
This is a spinning disk, with 4 excitation lasers (405, 488, 561, 640nm), an Olympus IX83 inverted microscope, a z-drift compensation module, 6 objectives (including a 30x NA 1.05 WD 0.73 silicon objective and a 60x NA 1.3, WD 0.3 mm silicon objective for live cell imaging and long working distances), and a Fusion BT Hamamatsu back-illuminated sCMOS camera. The spinning unit is a Yokogawa W1, coupled to a SoRa disk for high resolution imaging (1.4x gain, more info here: https://www.olympus-lifescience.com/fr/super-resolution/spinsr10/). Temperature and CO2 are controlled.
A FRAP photoactivation module with two independent 405 and 488nm lasers allows photo-manipulation experiments.
Please contact This email address is being protected from spambots. You need JavaScript enabled to view it. for more information or to discuss your projects