Tariff (public) : 15.66 €/hour Tariff (private) : -- €/hour
Brief description:
State-of-the-art, motorized, zen software-driven, upright widefield epifluorescence microscope equipped with an apotome slider.
Fluorescence and brightfield/darkfield (w/b camera).
For any multidimensional acquisition (Z, lambda and t).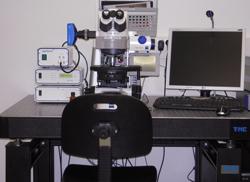 Objectives:
5X Achrostigmat 0.12
10X Plan Apochromat 0.45 NA
16X Plan NEOFLUAR 0.5 Imm PH2
25X Plan NEOFLUAR 0.8 NA Imm Korr
40X Plan Apochromat 1.3 NA oil
63X Plan Apochromat 1.4 NA oil
100X Plan Apochromat 1.4 NA oil

Detector :
1 Zeiss CCD Axiocam Mrm 1.4 MP monochrome camera
(1388 x 1040 pixels, 6.45µm pixel size)

BSL1 environment
Light sources :
Autocentering HBO 103W arc lamp for episcopic illumination.
Tungsten filament bulb for diascopic illumination

Motorization :
Binocular tube, stage (Z), fluorescence filter set turret, condenser turret, objective turret.

Fluorescence filter sets :
Hoechst
GFP HE
Rhodamine HE
Texas Red
Cy5
Available acquisition techniques:
Any regular 2D or 3D acquisition.

User-defined protocols
Image quality :
Both axial resolution and contrast in epifluorescence mode may be improved using the Grid Projection Illumination technique (aka "apotome"). The grid lines spacing is optimized for 40x and 63x lenses. The spatial resolution may be further improved using deconvolution (Huygens or Zen software).
Inquiries may be sent to
This email address is being protected from spambots. You need JavaScript enabled to view it.